Trust Centre - Reliability
Our highly reliable services are
designed to never let you down
Introduction
Reliability is very important to us and our customers. Our services are part of the internal workings of our clients' day-to-day business, so our systems architecture is designed to be highly reliable. Reliability has measurable goals and deviations are promptly corrected. Everything is change managed to ensure systems are updated smoothly. Incidents are interrogated and corrected. We have consistently had more than 99.99% uptime and we reveal all incidents and downtime on our status page.
System Topology – Scalable and Highly Available
We've created a reliable infrastructure with sophisticated, scalable and secure components: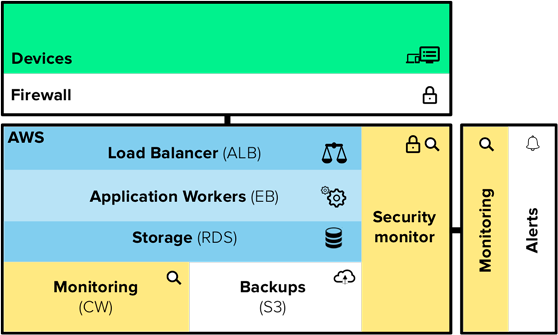 Business Continuity and IT Disaster Recovery Plans
It takes much more than a secure system and high-availability architecture to ensure we can meet our obligations, both internally and externally, following a disruptive incident. As such, both our Business Continuity Plan and IT Disaster Recovery Plan outline how we would respond and recover our system, and is reviewed and approved annually, or as significant organisational changes occur. The plans also take into account the various systems, facilities and third-party relationships which will enable the recovery and restoration of our products along with usable, actionable and accurate Recovery Point Objectives (RPOs) and Recovery Time Objectives (RTOs).
Incident Management
Our Incident Management policy and procedures ensure we proactively study risk, respond quickly to mitigate any potential risk and promptly notify clients of any unauthorised access to personal data.
Disaster Recovery
Client data is stored at multiple locations in our hosting provider's data centres to allow for recovery from unexpected disasters. To ensure client and internal data is protected in the event of a server failure we take a complete backup of system data every 6 hours and retain them for 90 days. We have a well-tested backup procedure to confirm that our processes and monitoring and alerting tools work as expected. We encrypt all backups with enterprise-grade encryption and data is encrypted before it leaves our servers and remains safely encrypted while stored.